The 22-23 yearbooks are in and we have some extra copies! If you bought one, please contact Ms. B about picking up your copy, and if you'd like to buy one, you can still purchase yours for $30 either online at jostensyearbook.com (you will pick up the book at THS) or in person at THS! Please note - if you buy a copy online, you will have to present your receipt to pick up your book.

TMS staff dressed like the students today for Underground Spirit Week! Lots of fun and laughs!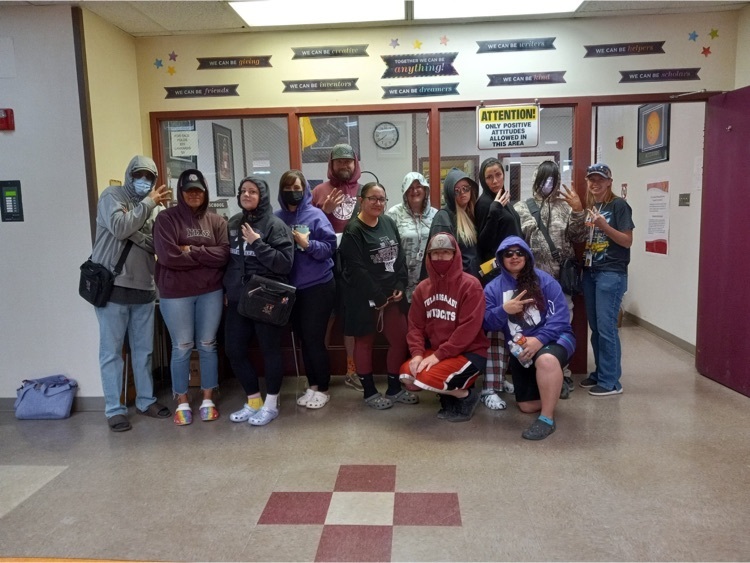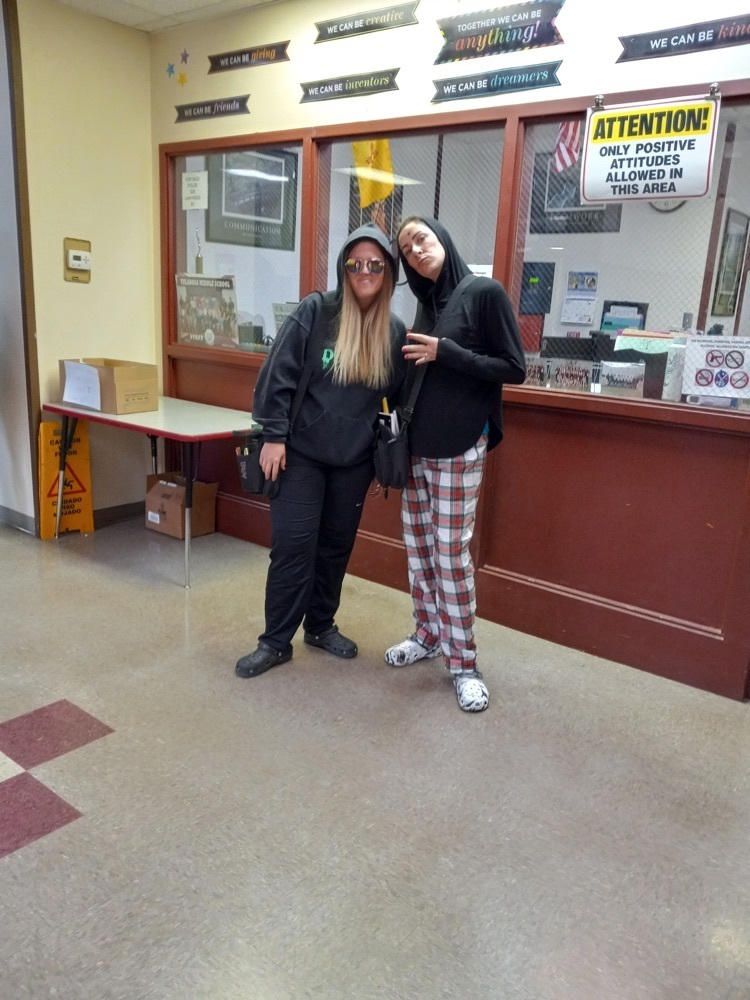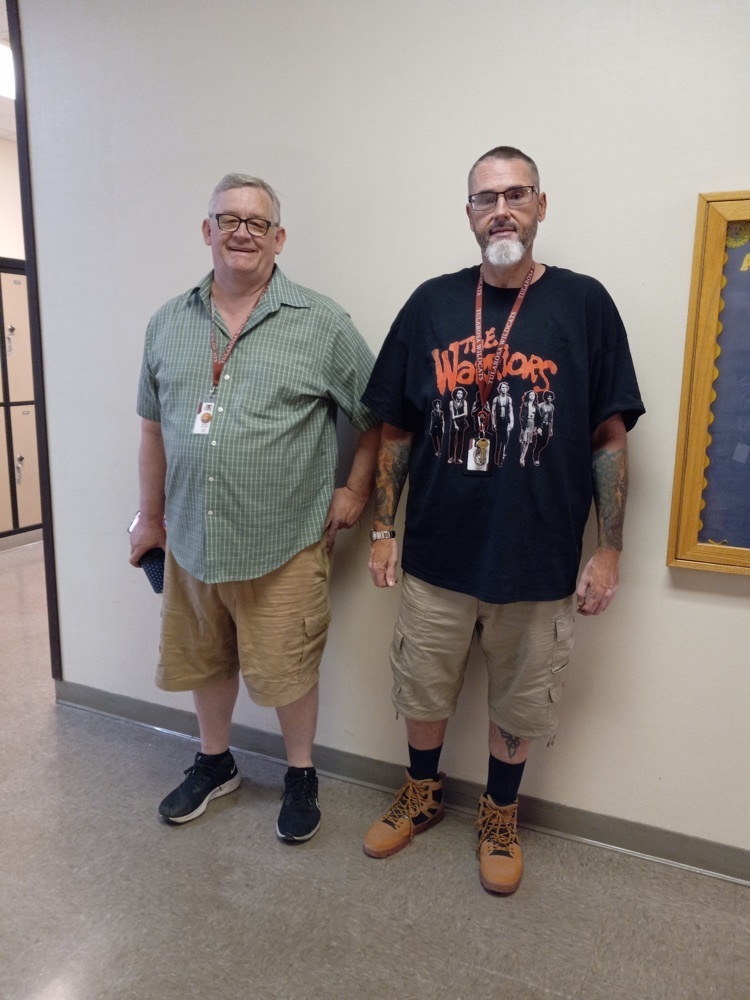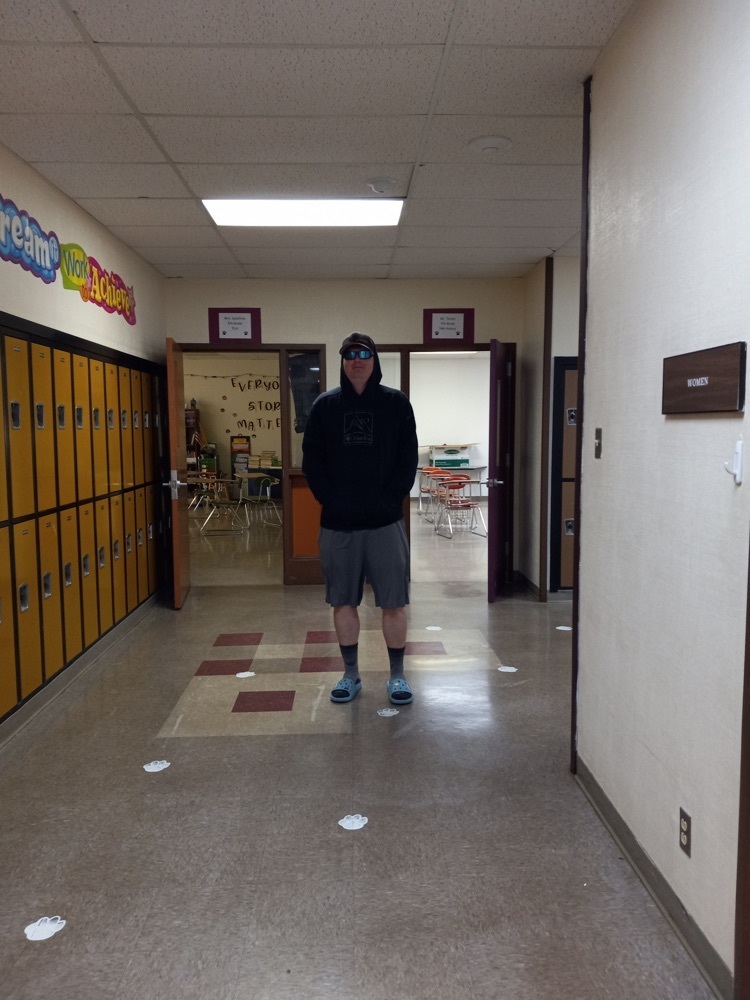 TMS finished up its annual 3 on 3 Basketball Tournament. The 8th grade team, Double Stuffed Oreos, beat the 7th grade team the Titans.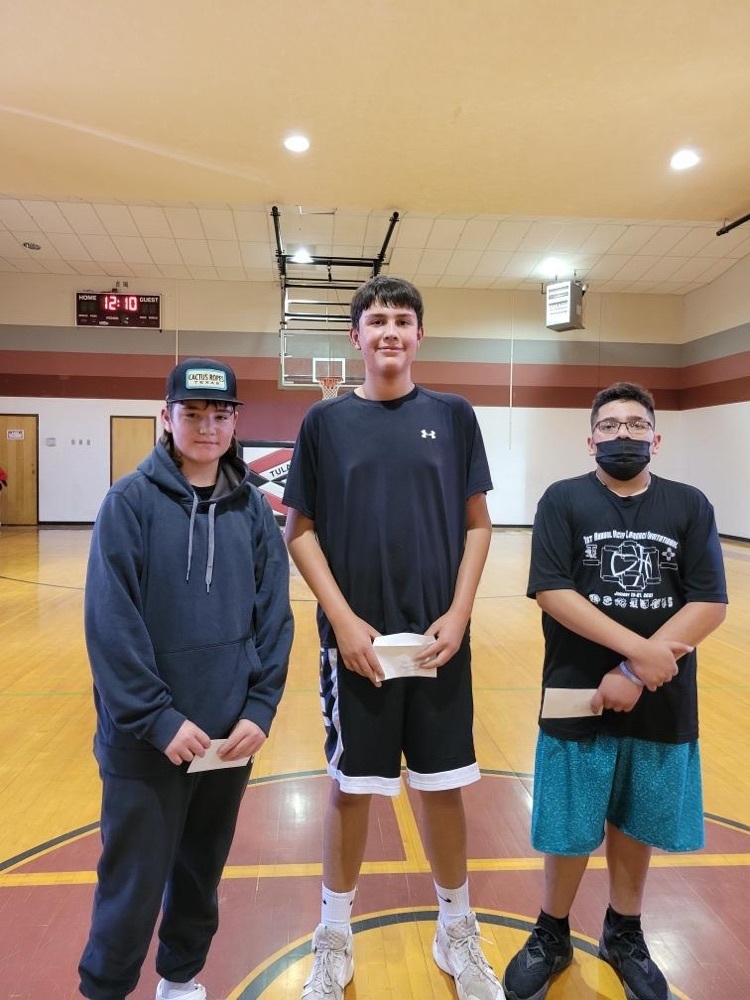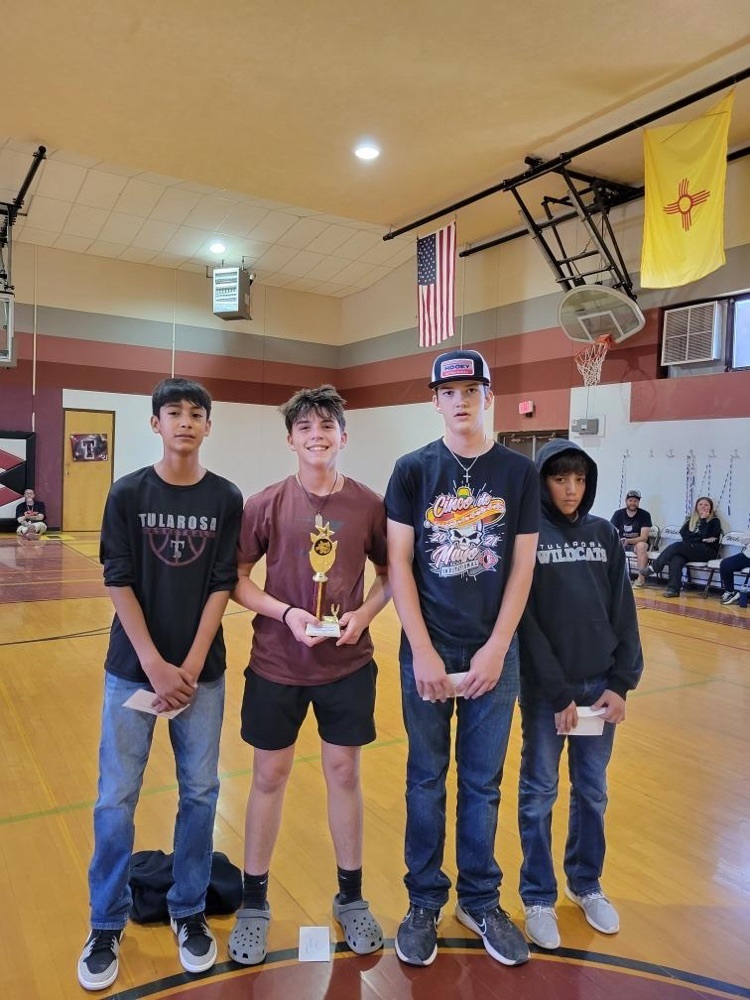 Exciting day for Tularosa High School Computer Technology Assistants, as their hard work to gain IT certifications to work in a statewide call center as well as provide a computer repair depot for their district & community is highlighted. These students will be recognized today in Santa Fe at the New Mexico Broadband Summit for their work to improve digital equity in New Mexico.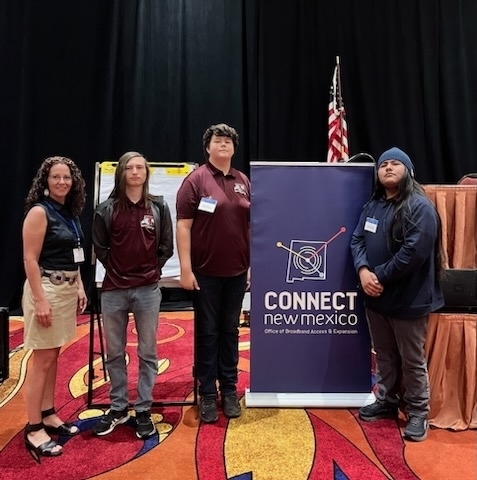 Free SAT and SAT Prep being offered this summer at NMSU-A Campus!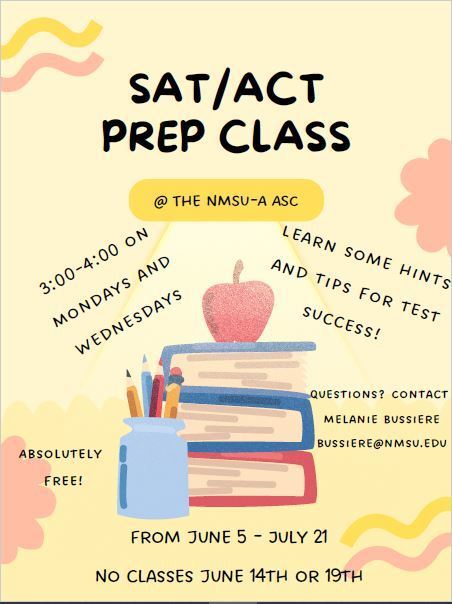 Congratulations to Tularosa High School's Class of 2023! We are beyond proud of how hard each of you worked. Good luck with all your future endeavors. Photo Credit: Melanie Bussiere, Savannah Manzanares, Caitlyn Rogers, and Isabella Valdespino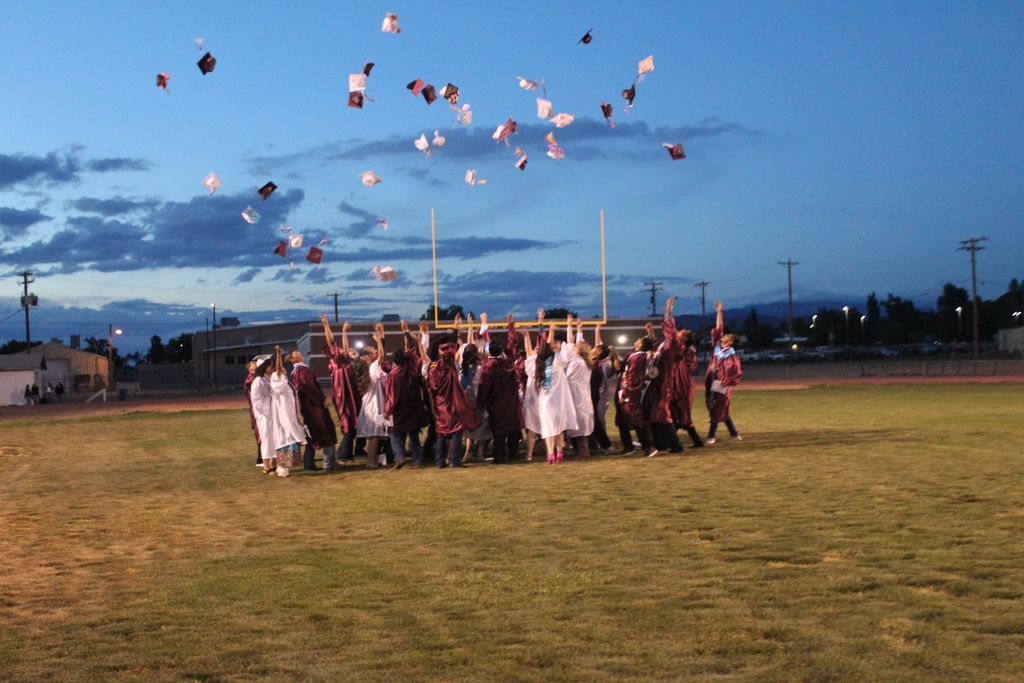 Senora Sanchez's middle and high school Spanish students performed for TMS and parents today at 2:15 and again at 6:00 PM. Great job on all the dances!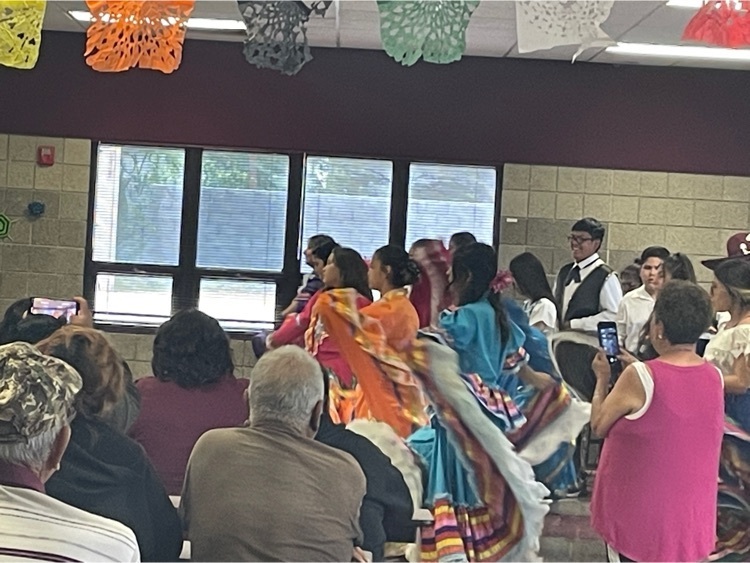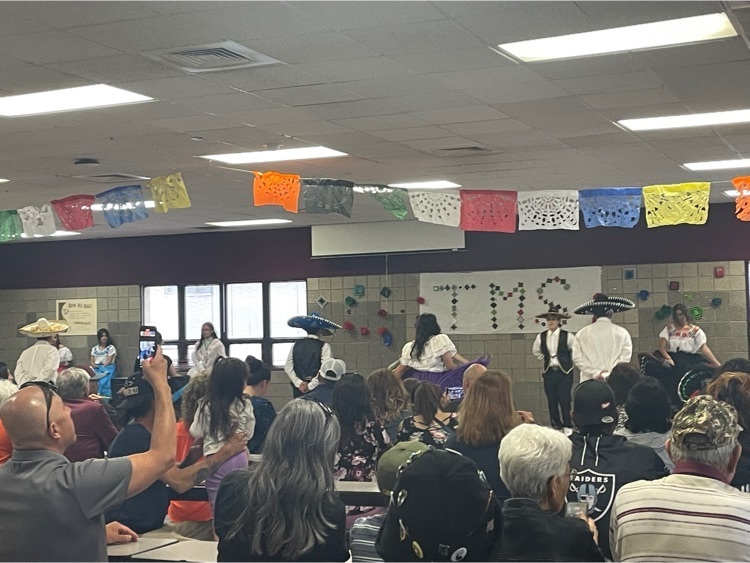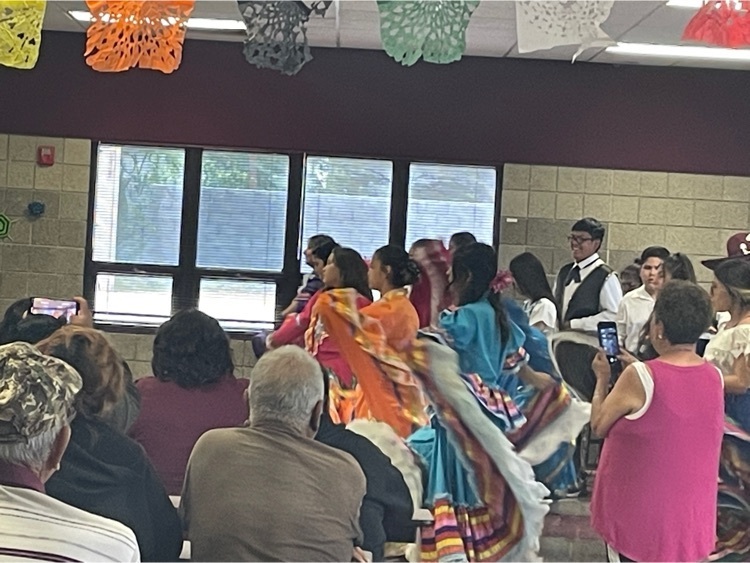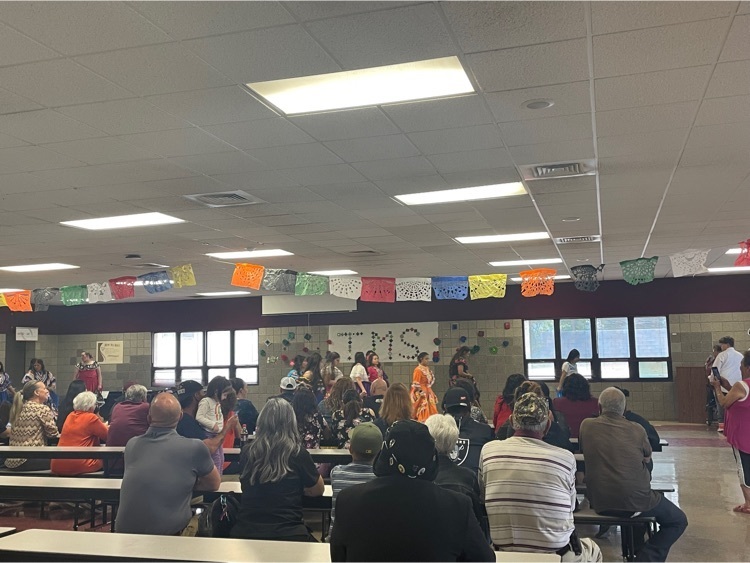 Tularosa High School has some very talented students. These students showed off their extraordinary talents at last Friday's ATM Talent Show. Thank you Mr. Baker, Ms. Walker, and the ATM crew for giving our students this opportunity!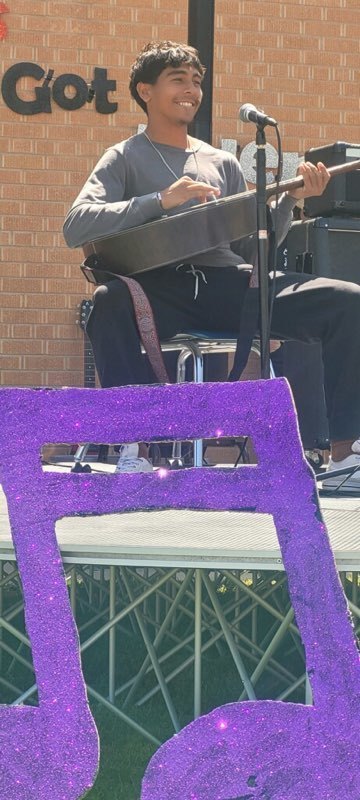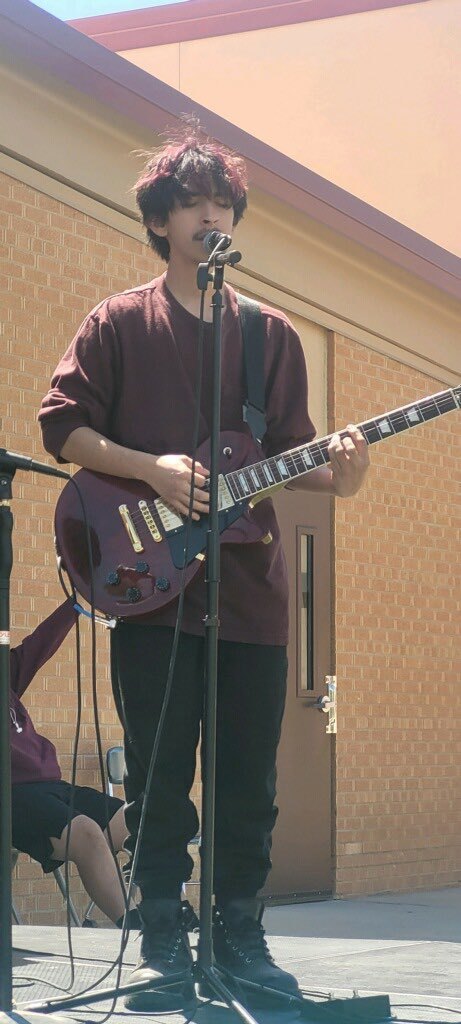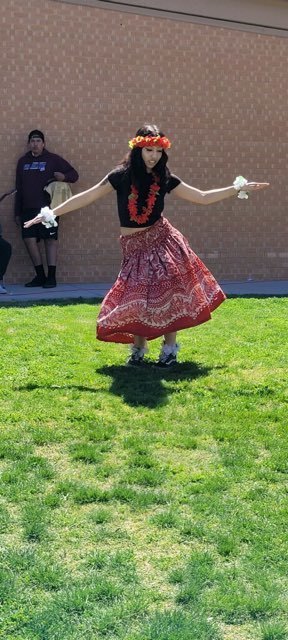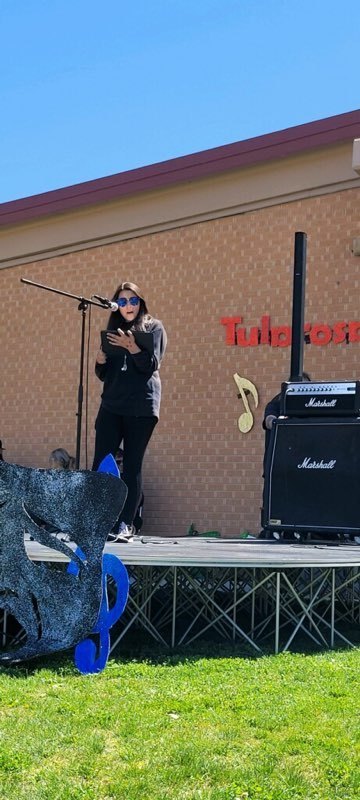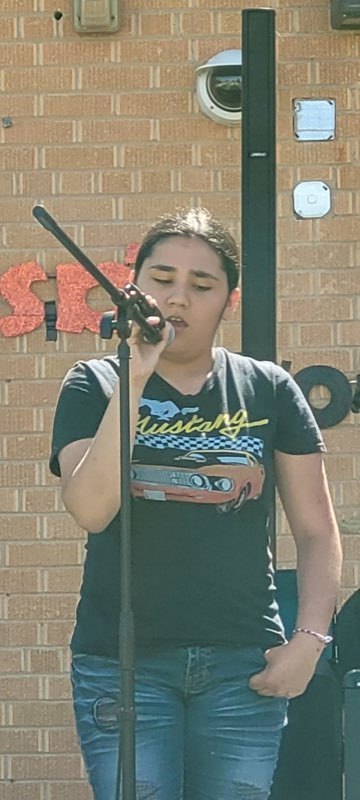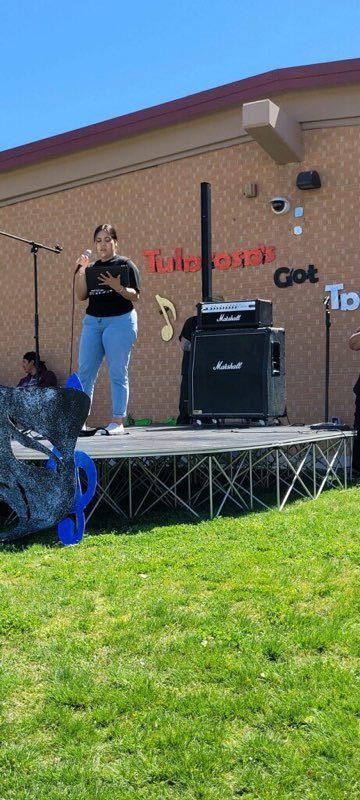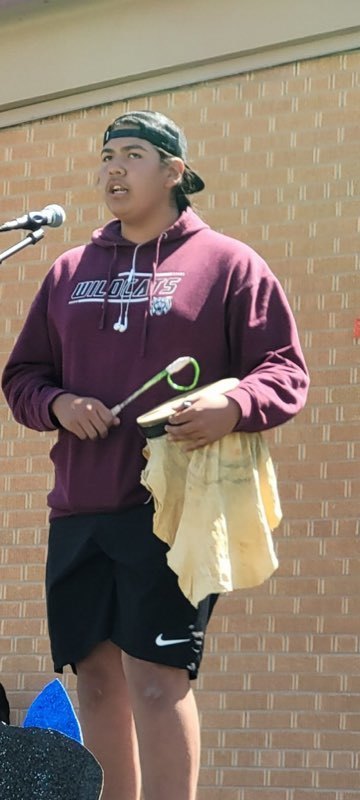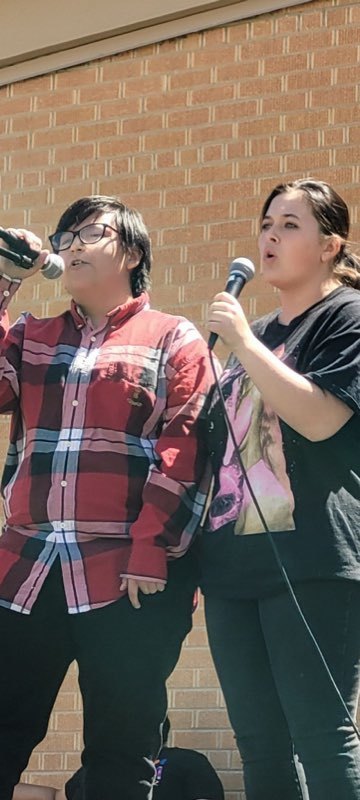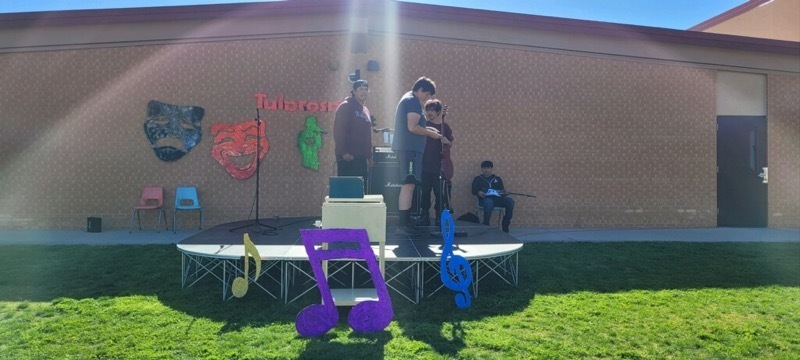 White Sands Mall is hosting a Fathers Day Lego contest.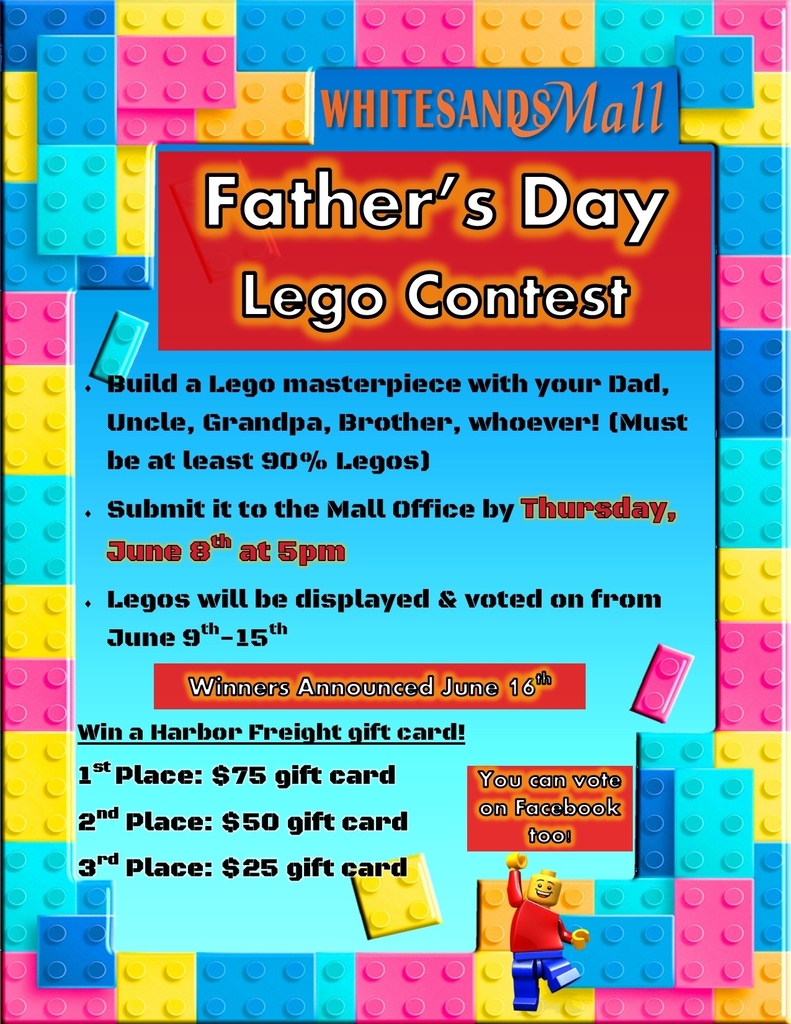 Tularosa Elementary School will host a Kindergarten Registration & Child Find event on Friday, May 12th from 1:00-5:00. Please attend if you'd like to register your child for kindergarten next year, would like to complete screenings for pre-k and Head Start or if you are a staff member interested in our staff childcare program for 3 and 4 year olds. We will have food and a fun event including games, cotton candy, bubbles and a bounce house on the playground to make our youngest students first visit to school memorable and fun. Students who register for kindergarten will receive a backpack and a book. Students who complete pre-k & Head Start screenings will receive a book and can sign up for the Tips by Text program. We hope to see you there!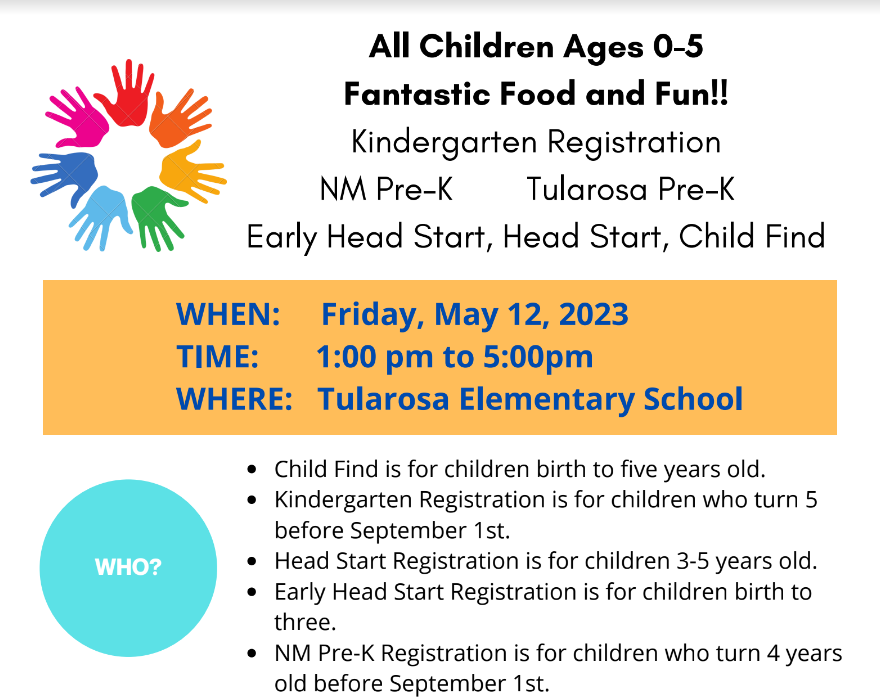 The Tularosa Track Team will be hosting it's annual end-of-season track banquet on Tuesday, May 16th at 6:00 p.m. at the Tularosa High School Cafeteria. It will be a pot luck style banquet. We hope to see you there! All athletes are asked to bring a main dish along with a salad or dessert.

We are aware of the information being shared on social media apps claiming shootings and bombings are to be carried out tomorrow Wednesday May 10th. We are aware these threats are being made nationwide but nonetheless have been in contact with local law enforcement. There is currently no credible reason to believe these threats are valid, we will however be continuing to monitor the situation.

Tularosa Schools would like to inform all parents and community members that earlier today, law enforcement was on campus to provide continued support in preventing and mitigating any situation from occuring throughout the school year As always, we encourage parents and community members to remain vigilant and report any potential safety concerns to the school administration or local law enforcement. We remain committed to providing a safe and secure learning environment for all our students and staff. Thank you for your continued support.

The Tularosa Municipal School's are accepting applications from Tularosa High School students ages 16 and over for summer work with maintenance. Applications can be picked up at Central Office and are due back to Central Office by Friday at 12:00 p.m.

As a reminder, tickets for the 2023 NMAA State Baseball/Softball Tournaments can only be purchased via GoFan. The link to purchase tickets is listed below.
https://gofan.co/app/school/NMAA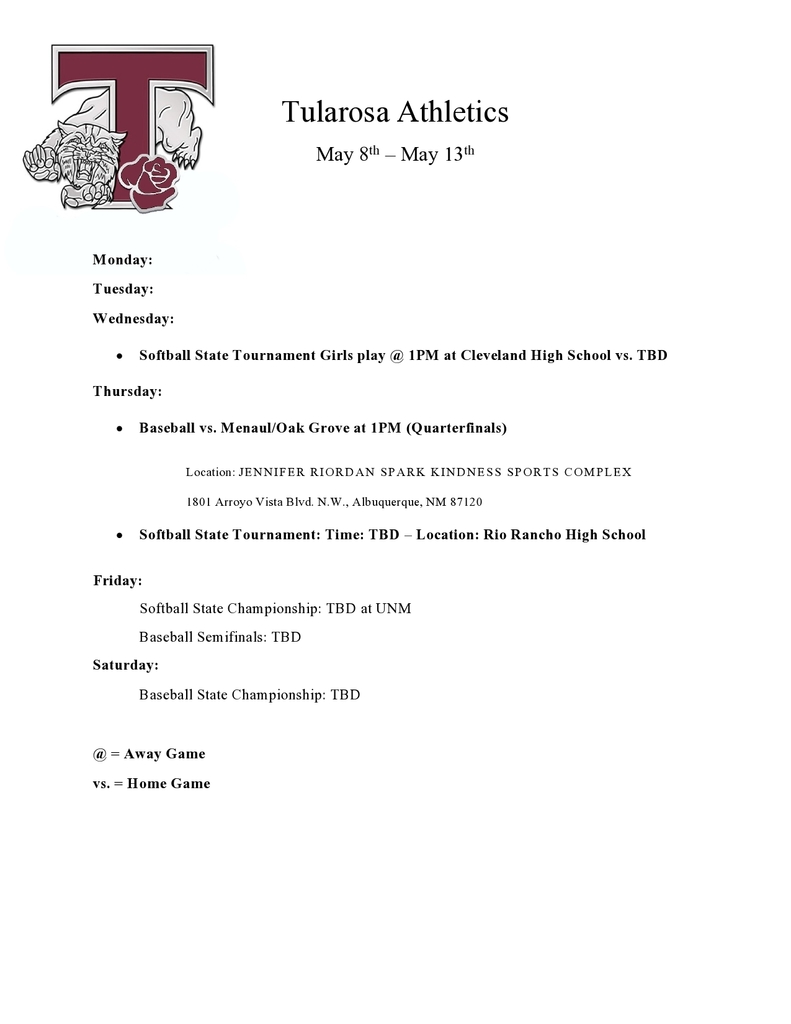 The Rotary Club of Tularosa will be holding an informational session for all juniors and their parents/guardians on Monday, May 8th at 6:30 p.m. in the THS Library for all interested in attending Camp RYLA 2023.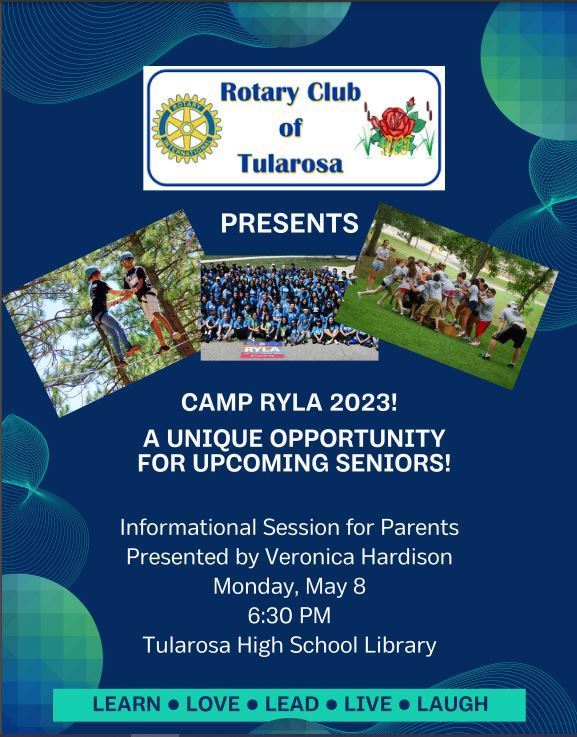 We are down to our last 40 yearbooks! Make sure you get yours before they sell out! Yearbooks are only $30 and can be purchased either at
www.jostensyearbook.com
or with Ms. Bussiere. Books will ship in mid-May!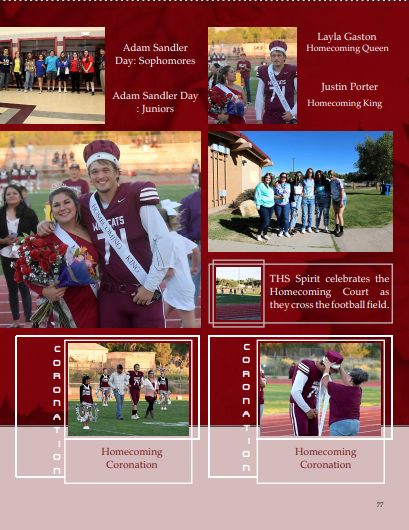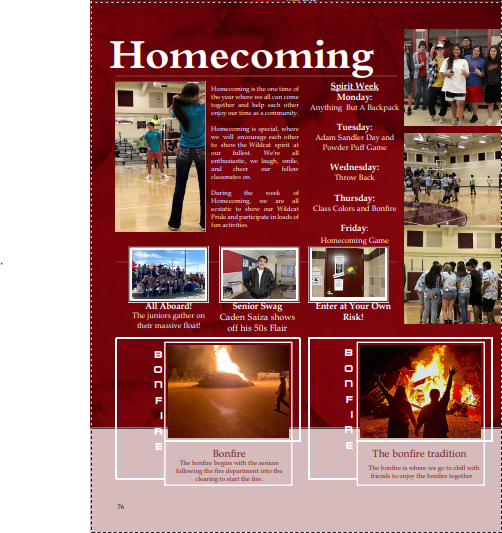 Senora Sanchez' Multicultural Class Celebration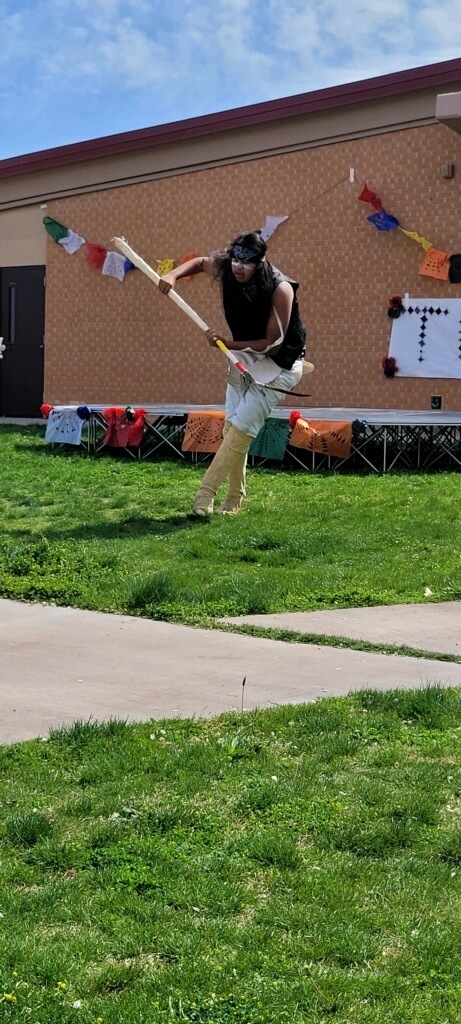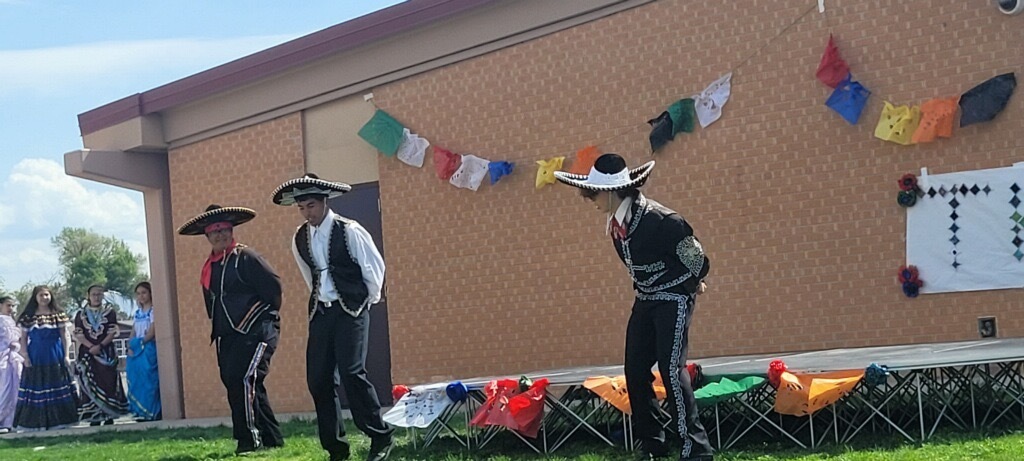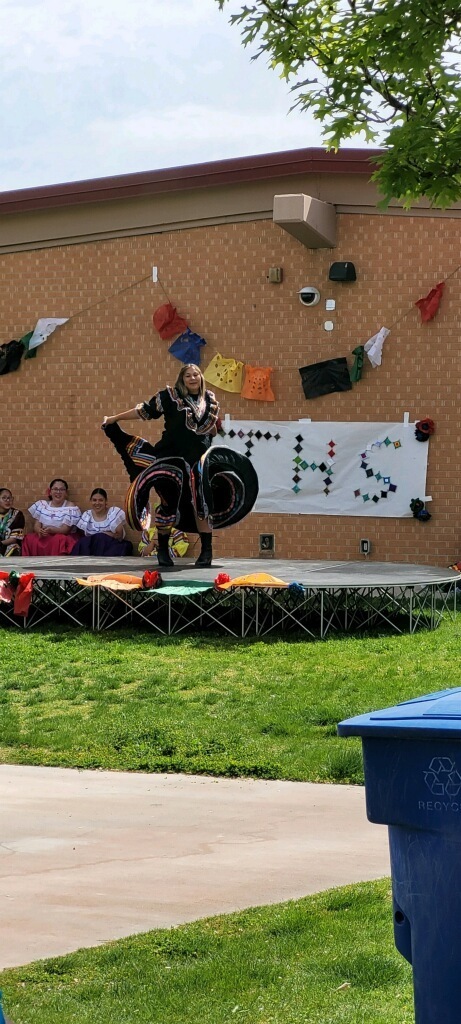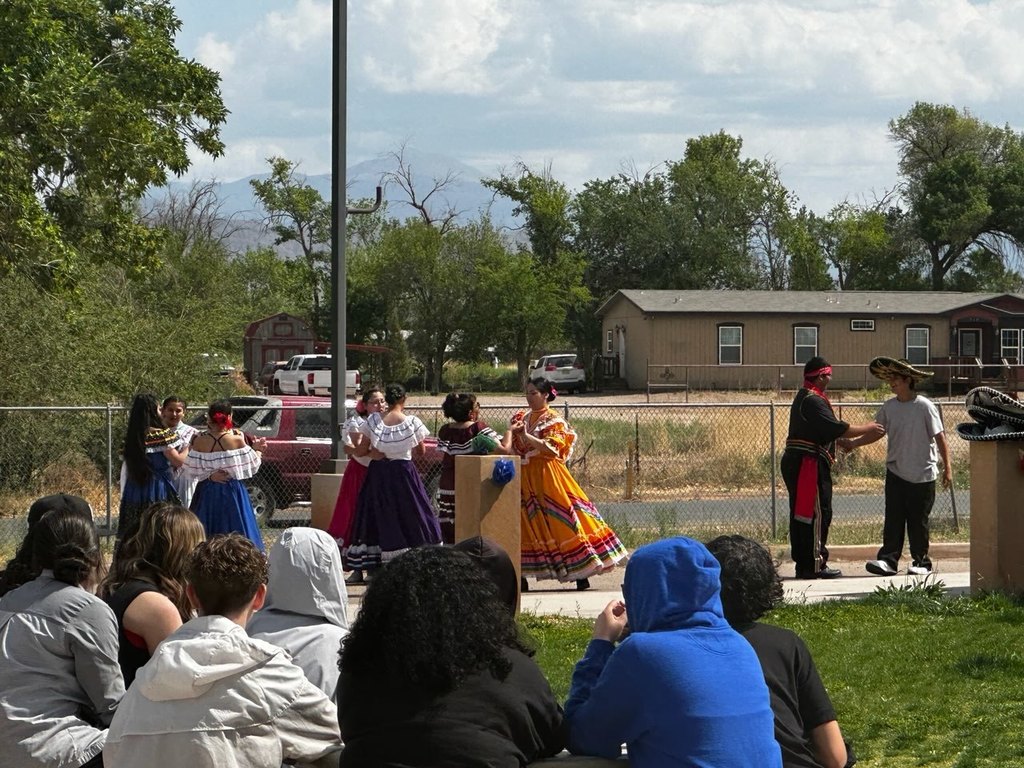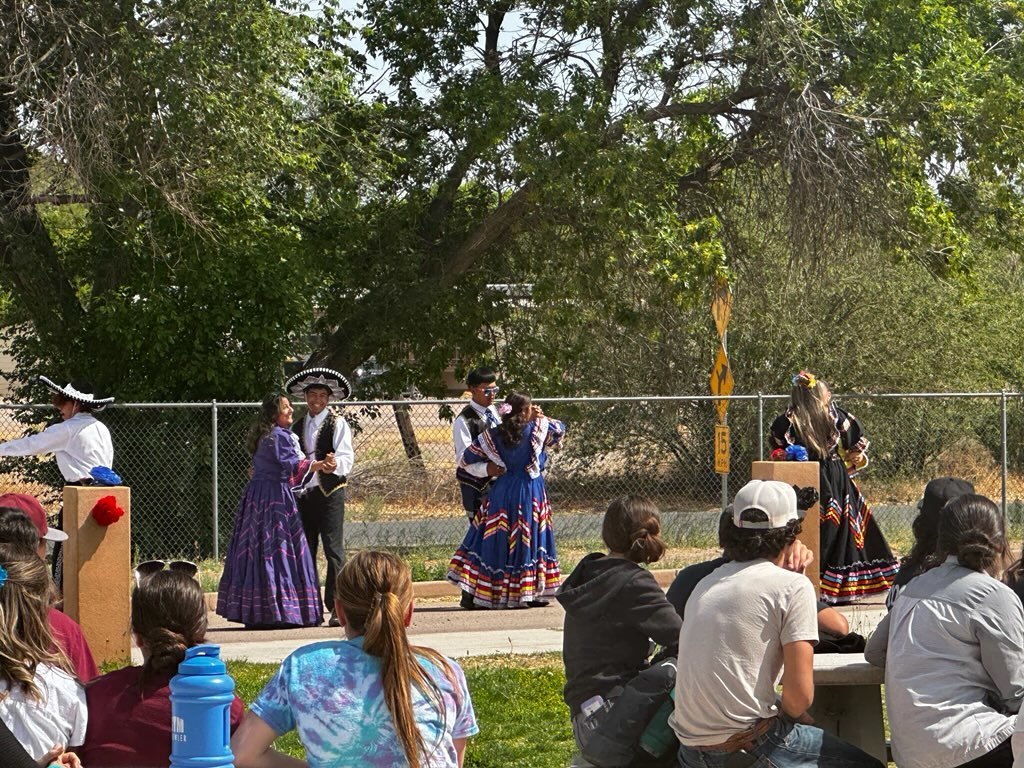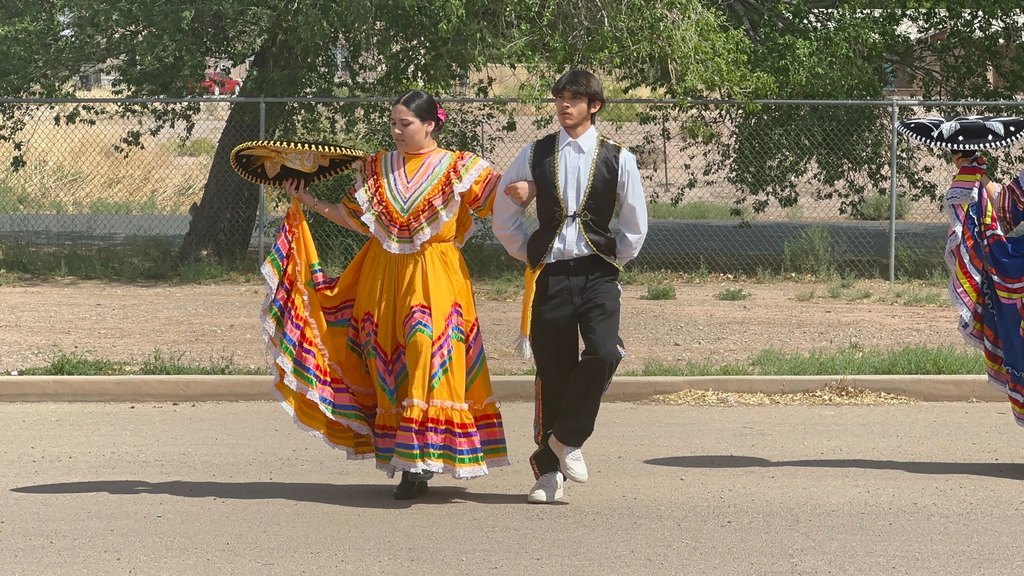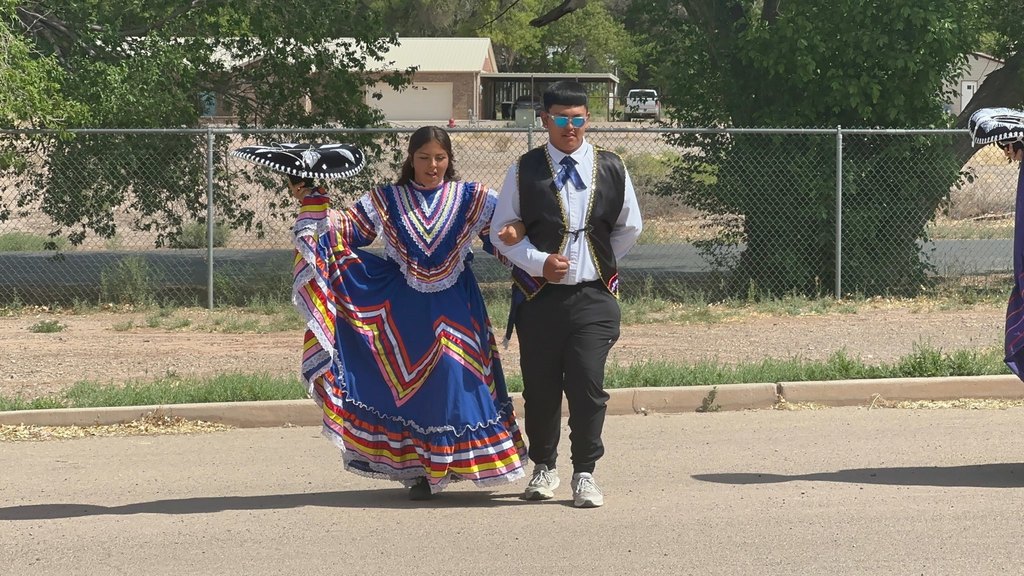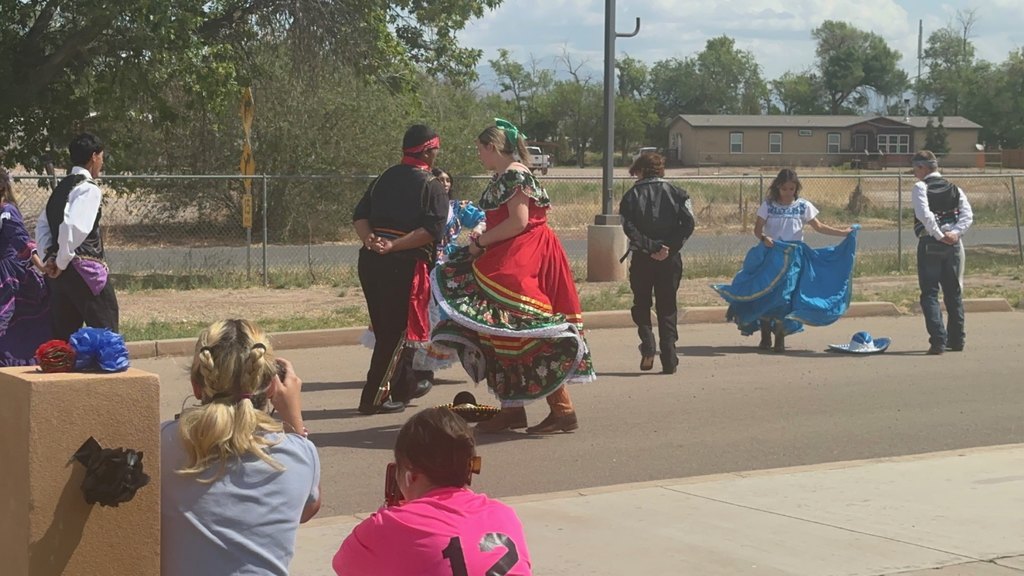 Congratulations to Baseball Coach Pat Garcia and Softball Coach Brian Telles, both were named District Coaches of the Year today. Tularosa is very proud of both of you for all your hard work and dedication to both programs.